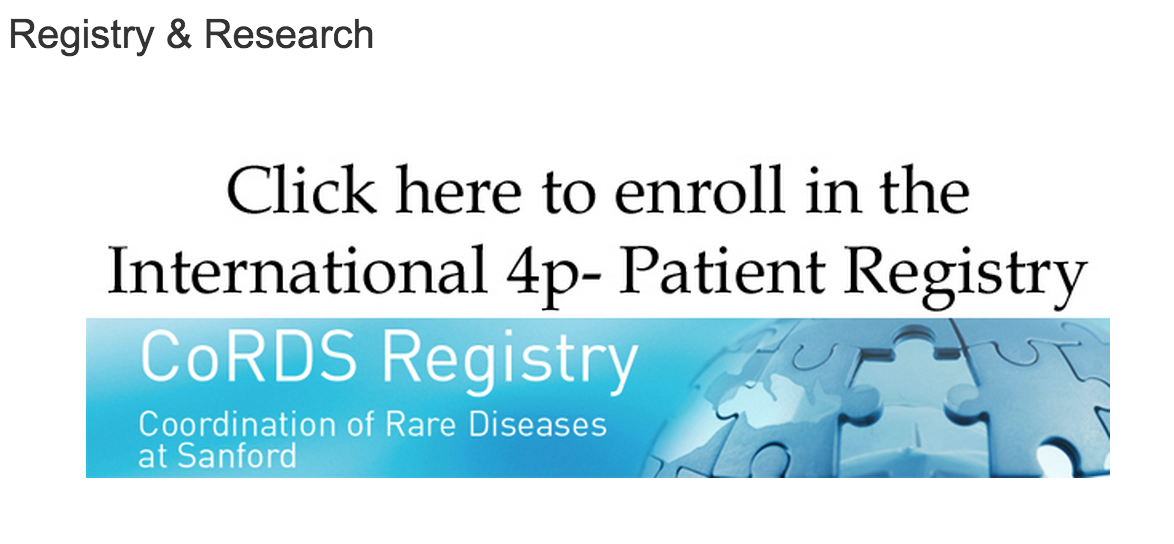 02 Jun

International 4p- Patient Registry Now Available

We are excited to share this beautiful news from our wonderful friend and one of our biggest supporters, Amanda Lortz: 

I am not really sure where to start, or how to put this together, so here it goes…

Today is a tremendously emotional day for me because today we officially launch the International 4p- Patient Registry's online portal via our website. And while we've had a patient registry since July 18, 2014, it was only available to the families who attended our 2014 National Conference. However, today any 4p- family, regardless of their location around the world, can register their child into the patient registry and contribute to our efforts in advancing research of 4p-/Wolf-Hirschhorn Syndrome.

This time next week members of our 4p- Scientific Advisory Board, including myself, will be having our annual meeting, followed by the 2015 American College of Medical Genetics annual conference which is attended by thousands of professionals in the field of genetics. During the ACMG conference, several members of our 4p- Scientific Advisory Board and I will be presenting an abstract related to the mirco array testing research our organization has been involved with since 2012 through our clinical partnership with Lineagen. I am extremely excited to get this research out to the genetic community because we've been able to make serious progress with being able to identify seizure candidate genes. This research is still very new and is a hypothesis. Furthering testing must be conducted and we could still be several years away from confirming – but if (wait, I mean WHEN!) we confirm the candidate genes, this will lead to avenues to develop targeted seizure treatments.

4p- families, the research is coming! So I implore all 4p- families, while I am traveling next week to help advance awareness and research for 4p-, you take 20 minutes and enroll your child. (This is an INTERNATIONAL registry so you can enroll no matter what country you live in. The only requirement is that you can read and understand English. We do plan to translate the questionnaire into other languages, starting with Spanish, but it will take some time to get the proper approval for the translations.)

The registry was largely made possible through the fundraising efforts ofKammy's Kause over the last 10 years. Even though the registry platform we will be using is "no cost" there are still many costs involved. Funds from Kammy's Kause were used to allow me to attend the 2011 International Congress of Human Genetics Conference where I first learned about the CoRDs registry platform. Funds from Kammy's Kause are being used so I can attend the 2015 ACMG conference as well. Funds from Kammy's Kause are used to maintain our website so families can access information including the patient registry. And the list goes on and on…

4p- families, I have tagged as many of our Kammy's Krew members as I could. Please consider posting a comment below to thank them! They volunteer countless hours during the year, never asking for anything in return. In fact, if you've ever been to Kammy's Kause you will know that they say thank you to the 4p- families for coming. Planning for Kammy's Kause 2015 has already begun… let them know you appreciate their commitment to our 4p- community and what they do for us matters a great deal.

Thank you!

Now I am off to activate the registry! Check our 4p- Support Group FB page for more info soon!